Businesses that care about customer success are slowly adopting an intelligent swarming support model. By lowering the barriers to knowledge, businesses can empower experts, both internal and external to an organization, by allowing them to autonomously capture and reuse information by authoring, editing, and requesting content in real time. This constant, iterative interaction with the knowledge layer by experts forces knowledge content to remain up-to-date, to be purposefully, and to constantly evolve. Collaboration models are essential for customer success but require stringent internal controls to hold authors accountable for their work. This accountability is what keeps a knowledge layer tight, targeted, and focused so that the content being delivered is in line with what is being released by product development. MindTouch realized the importance of incorporating internal controls into our software early on and have, with each release, slowly improved the reach, granularity, and quality of our internal control toolset.
What is Site and Revision History?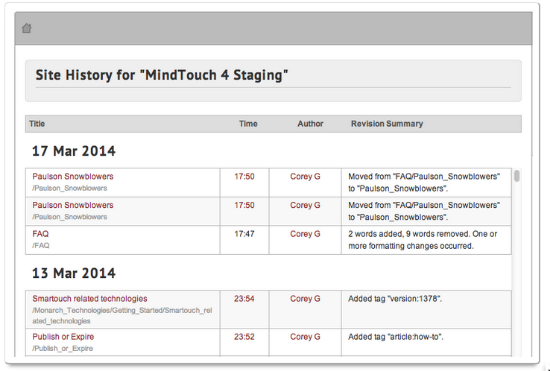 MindTouch is offering, in open Beta, an extremely robust dashboard that tracks both the site history as well as the revision history. These internal control tools are extremely powerful because it lets businesses quickly overview all the changes made across an entire site, identify who made the change, and when the change was made. By being able to compare revisions side-by-side, section editors can revert and undo changes to reflect a previous version, track how their content is evolving, and see who their key expert contributors are.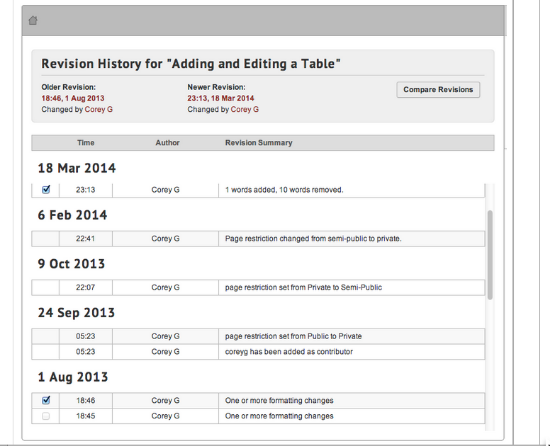 With the latest release, MindTouch now integrates the following events into its site and revision history. The features have, consequently, become more powerful, the design more user friendly, and the functionalities more granular. In other words, MindTouch customers can mine more data, customize with more flexibility, and tighten their control of their document management system.
Previous Events Tracked:  
Reverting a page
Copying a page
Moving a page
Deleting a page
Restoring a deleted page
Creating a new page
Reverting to a previous version of the page
Updating the contents of a page
Restoring a deleted file
Copying a file
Moving a file
Deleting a file
Adding a new version of a file
Attaching a new file
New Events That Are Being Tracked: 
Reverting page conflicts related to files
Update the display name for the page
Resetting the url and display name of the page to be the same
Change the capitalization of any letters in the url for a page
Creating a new description, or custom property, for a file
Updating a description, or custom property, for a file
Deleting a description, or custom property, for a file
Creating a new page property
Deleting a page property
Updating a page property
Updating permissions for a page (More granular)
Remove grants from permissions (More granular)
Adding new grant(s) to permissions (More granular)
Adding or deleting a tag on a page (More granular)
Why does Site and Revision History Matter?  
Site and Revision History serves as an audit trail and captures all the interactions that experts have with a knowledge layer. Section editors can use this snapshot of events to track the evolution of a piece of content, hold authors accountable for their work, control what needs to be filtered, and determine what the next steps are. As it is impossible to erase the history, section editors can dynamically compare content written at different points in time and choose to compare, revert or undo any changes. This functionality is extremely robust. Even when you revert back to a previous instance, MindTouch will not erase any history. Instead, the Site History and Revision History will show that a new event has been created.

If you haven't used the Site History and Revision History tools yet on MindTouch, we would highly recommend that you give it a try. These tools will amplify your company's ability to monitor, track, and manage content knowledge in a collaborative environment. Businesses will now be able to overview their entire knowledge layer, pinpoint weaknesses, and make quick, actionable decisions in real time. 
For more information, please check out our MindTouch Customer Success Center.